Our Brands

Status works with a customer base spreading across the UK and Europe from major national retailers, wholesalers, independent retailers and electrical wholesalers. Our range of Status branded light bulbs and electrical accessories are available in eye catching colour coded packaging which is appealing to the consumer and offers outstanding value for money.
The Status Lighting range includes a comprehensive choice of LED (including LED filament), Halogen, Low Energy and Traditional Incandescent light bulbs.
Available in a wide combination of caps, shapes and wattages to meet virtually every requirement possible. By working closely alongside our factories, we have ensured each product is of the highest quality & standard.
An extensive range of electrical accessories is available consisting of plugs, adaptors, extension sockets, cable  reels, wall switches & sockets.
A comprehensive range of cooling and heating products are also available in Status branding.

In February 2016 Status acquired the brand name Maxim from JF Poynter Ltd, trading as, Maxim Lamps.
Maxim Lamps is one of the oldest companies in the lighting industry with the first Maxim lamp produced in 1879.
Maxim History
The brand Maxim has a long and distinguished history dating back to the 19th century when it was established by Hiram Maxim, an American engineer and inventor. He developed an incandescent lamp at the same time as Edison, Swan, Sanger, Man and Lane Fox with lamps which had carbonised paper for filaments.
Hiram Maxim's first light bulbs were produced in 1879 and in the following year 50 Maxim lamps were installed at the New York Safe Deposit Company. However, it was Edison who was to get the credit for the invention of the electric light bulb as his lamps were installed a few months earlier on a steamship.  
Hiram Maxim transferred his activities to England during the 1880s and produced light bulbs in London. However, by the turn of the century his interests had turned away from the manufacture of light bulbs to his other inventions such as the Maxim machine gun.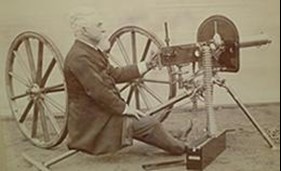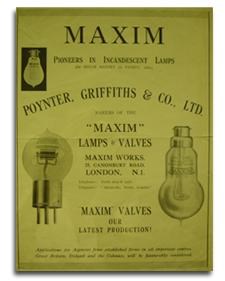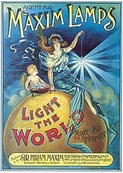 The factory manager, Mr JF Poynter, took over the ownership of the Maxim brand from Hiram Maxim in 1910.
Lamps were produced at the London factory until 1951 when the plant was transferred to a new factory in Hurstpierpoint, West Sussex, with new offices built alongside.
Leslie Poynter, the grandson of JF Poynter, had been appointed Commercial Director in 1945. He purchased new plant to meet the increased demand and manufacturing continued at Hurstpierpoint until the late 1970s when due to an increasingly competitive market, a decision was taken to cease production at home and import the range of Maxim light bulbs.
The Maxim brand name and ownership of the Company remained solely in the hands of some of the Poynter family until February 2016 and the family are justly proud of Maxim's long history and the association with Sir Hiram Maxim.
Peter and Nicholas McVeigh appreciate all the hard earned efforts undertaken by Peter and Anne Slade (nee Poynter) in marketing the Maxim brand and we wish them good health in their retirement.
February 2016 started a new Journey for the Maxim Brand.

CRYSTALITE® is a collection of premium decorative light bulbs that addresses the demand for stylish and design focussed lighting solutions. The range includes interesting filament designs, patterns, textures and coloured light bulbs.
These are mood creating and will appeal to a wide range of consumers including businesses in the leisure, retail and design industry as well as the general public. 
The CRYSTALITE® collection consists of four different design-led product ranges:
Antique Style
Decorative Range
LED Colour Changing Lighting
Traditional and Halogen Coloured Lamps